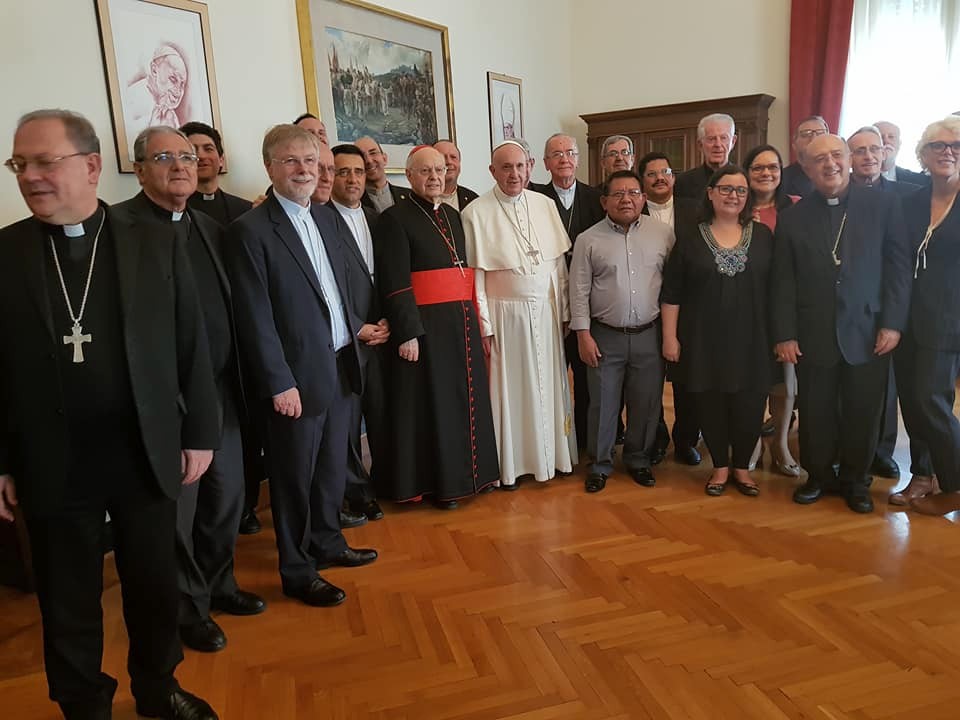 The Council is made up of 18 members, appointed on 8 March 2018 directly by the Holy Father.
In addition to the Secretary General and the Undersecretary the members are:
1. Card. Cláudio HUMMES, O.F.M., Archbishop emeritus of San Pablo (Brazil), President of the Panamazzonica Ecclesial Network.
2. Card. Peter Kodwo Appiah TURKSON, prefect of the Dicastery for integral human development.
3. Card. Carlos AGUIAR RETES, Archbishop of Mexico City (Mexico).
4. Card. Pedro Ricardo BARRETO JIMENO, S.I., Archbishop of Huancayo (Peru), Vice-President of the Panamazzonica Ecclesial Network.
5. Bishop Paul Richard GALLAGHER, Titular Archbishop of Hodelm, Secretary for Relations with States of the Holy See.
6. Bishop Edmundo Ponciano VALENZUELA MELLID, S.D.B., Archbishop of Asunción (Paraguay).
7. Mons. Roque PALOSCHI, Archbishop of Porto Velho, Rondônia (Brazil).
8. Mons. Oscar Vicente OJEA, Bishop of San Isidro, President of the Episcopal Conference (Argentina).
9. Bishop Neri José TONDELLO, bishop of Juina, Mato Grosso (Brazil).
10. Bishop Karel Martinus CHOENNIE, bishop of Paramaribo (Suriname).
11. Bishop Erwin KRÄUTLER, C.PP.S., Prelate Emeritus of Xingu, Pará (Brazil).
12. Bishop José Ángel DIVASÓN CILVETI, S.D.B., Apostolic Vicar Emeritus of Puerto Ayacucho (Venezuela), titular bishop of Bamaccora.
13. Bishop Rafael COB GARCÍA, Apostolic Vicar of Puyo, titular bishop of Cerbali (Ecuador).
14. Bishop Eugenio COTER, Vicar Apostolic of Pando, titular Bishop of Tibiuca (Bolivia).
15. Mons. Joaquín Humberto PINZÓN GÜIZA, I.M.C., Apostolic Vicar of Puerto Leguízamo-Solano, titular bishop of Ottocio (Colombia).
16. Mons. David MARTÍNEZ DE AGUIRRE GUINEA, O. P. Apostolic Vicar of Puerto Maldonado, titular bishop of Izirzada (Peru).
17. Sr. María Irene LOPES DE LOS SANTOS, S.C.M.S.T.B.G., Advisor of the Episcopal Commission for the Amazon region of the CNBB.
18. Mr. Mauricio LÓPEZ, Executive Secretary of REPAM (Ecuador).
***
The first meeting of the Pre-Synodal Council of the Special Assembly of the Synod of Bishops for the pan-Amazon region was held at the General Secretariat of the Synod on 12 and 13 April 2018, in the presence of the Holy Father. In the conclusion, a press release was published, signed by Cardinal Lorenzo Baldisseri.